Artists are the most creative people in the world. They are the creators of creativity. They are here to make the world a more beautiful place. There is no match for the artist's creativity in the whole universe. The imagination of the artists is just unimaginable.
In general, if you ask people about their happiness, many will say it can be their dream car, luxury watch, high-end gadgets, costly attire, standard lifestyle, and many more. But the artist's answer is different. Most artists find happiness in their work and are least bothered about worldly comforts. Most artists say that art isn't a skill meant to sell but a true appreciation.
Back in the olden days, artists need to wait for the monthly/weekly magazines to publish their content or wait for the exhibitions and art galleries to showcase their work. They have to wait months or years to exhibit their artistic skill and talent. They don't have many facilities back then.
That's the importance of today's topic, digital marketing for artists.
In this 21st century, which is the era of the internet and search engines, everything is at the tip of a finger. Today technology and internet trends possess a wide range of opportunities, and any artist can make use of social media, websites, and search engines to expose himself to the world.
Nowadays, there is a lot of competition for artists in the digital space as well. Artists with the right skills need to be set apart. To accomplish this, marketing is necessary for the artists that too digital marketing because of its various benefits.
But even today, most people think digital marketing for artists is not an essential thing. No, it's not like the way they think. There is a huge competition out in the world for artists also. Considering digital marketing for artists can make them stand out in the crowd.
Moreover, the pandemic has changed everything. Many artists' lives got affected during the pandemic. It teaches many lessons. Meanwhile, the usage of the internet among people also increased a lot. This paved a way for many businesses, brands, and professionals to promote their products and services even more online.
This article is all about a brief discussion on various types of digital marketing for artists that one can benefit from by showcasing their skills and talent and building portfolios.
Importance of digital marketing for artists
Nowadays, especially post-pandemic, the global usage of the internet increased rapidly. Many people started using smartphones and connected to the internet. Many businesses started to implement digital marketing to grow their business online. Not only the business owners but many professionals also increased their revenue through digital marketing and succeeded in building their personal brands and a community around them.
While most business owners and professionals make use of digital marketing, why not artists?
How to do digital marketing for artists?
Digital marketing for artists is a very crucial approach required for every artist nowadays. There are so many methods of digital marketing for artists that anyone can implement very easily at a minimal cost. Below mentioned are the few popular methods and most recommended strategies.
Digital marketing strategies for artists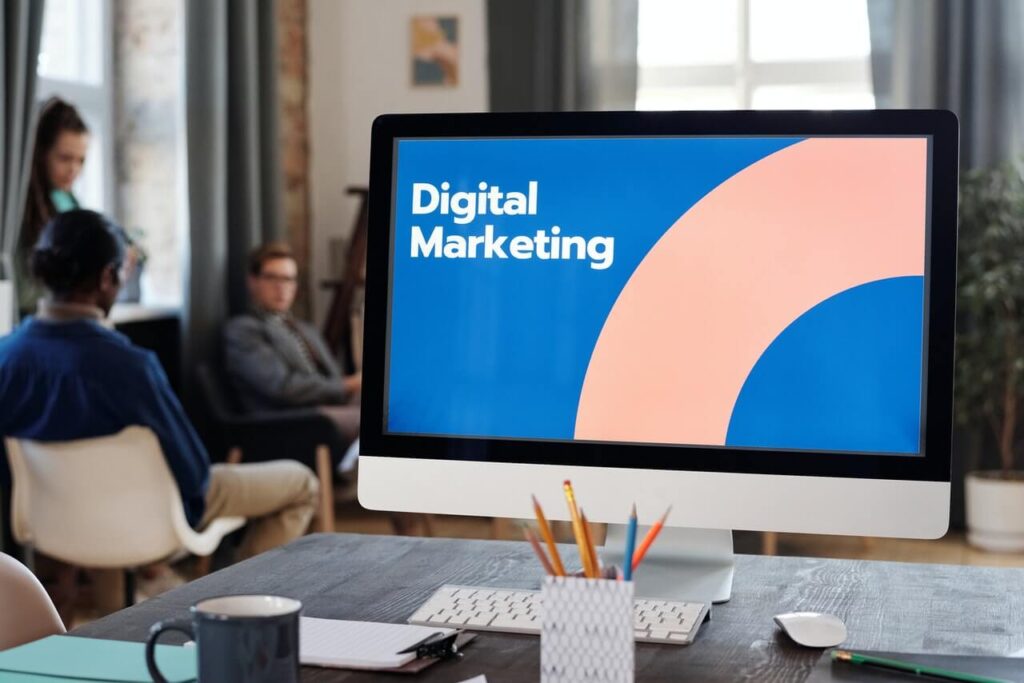 Have a mobile-friendly Website
Having a mobile-friendly website is the first step of digital marketing for artists. He can use the website to showcase his works. If his works are on sale, he can integrate payment gateways and receive the payments directly from his site.
If the artists' works are not particularly into sales, he can use the site to build a portfolio. Website need not be hardcoded always. It can be a simple WordPress blog also. He can create content like blog articles and drive traffic to them.
A simple, neat, mobile-friendly, and eye-catchy website with high-quality images and videos makes the user stay longer on the website. It helps to drive more traffic.
Optimize for Search Engines- SEO
Search Engine Optimization (SEO) is always meant for organic traffic. This is completely free traffic purely from the search engines. Whenever the internet user searches the particular keywords related to your website, your site ranks on the search engine results page. Long-form blog articles are one of the most efficient ways of organic traffic.
SEO is the free technique of digital marketing for artists. An artist can create high-quality genuine content and publish it on his site or blog. Content can be in any form. It can be articles, videos, podcasts, case studies, infographics, or previous works related to his art.
Always keep in mind, SEO is a long-term continuous process that requires a lot of patience and dedication. Don't expect the results sooner while in the SEO because there are tons of websites already ranking for the particular keywords on the search engine results page. It is way difficult to beat the such competition in a short period. But SEO leaves a very high authority on websites. Once it starts ranking for the search queries, you can get high traffic for free.
Be active on Social Media and Online Forums
Use your social media profiles to create quality and engaging content that helps build your portfolio, and this is also a kind of digital marketing for artists. Post your art-related stuff on your social profiles, respond to the post mentions, use relevant hashtags, and comments and add stories. Post consistently on social profiles to maintain good organic reach.
Join some online forums which are related to your niche and try to be active over there, and if possible, head out to the platforms like Quora and answer the questions related to your field of expertise that helps in personal branding also.
The artists can make use of short videos to demonstrate their works. Nowadays, short video platforms like TikTok, Instagram Reels, and YouTube Shorts are the most popular, and they reach a larger audience in a short time that possesses a high organic reach though. All social media algorithms work on AI (Artificial Intelligence) that analyzes human behavior and feeds the user timeline based on their particular interests. That's how short videos become so popular.
Go for paid ads, PPC- SEM
Paid ads are mostly known as Pay-Per-Click (PPC). PPC is the core part of Search Engine Marketing (SEM). PPC, the name itself suggests- the advertisers have to pay only when their ads are being clicked by the users.
Let's say an artist wants to sell the products or wants to bring traffic to his website or blog. He set up a paid ad campaign for the particular keywords in Google Adwords.
When a random internet user searches those particular terms on search engines, the ads get triggered on the Search Engine Results Page (SERP). When a random user clicks this sponsored ad on SERPs, now the artist has to pay for that particular ad click. SEM is the quickest way of digital marketing for artists.
PPC can be available in various forms like text ads, banner ads, image ads, video ads, etc. These ads are placed on the search engine results page, any particular website/webpage, blog posts, videos, etc depending upon the type of ads on various platforms. This whole process constitutes SEM.
This is a purely paid method of digital marketing for artists. The results are seen only until you run an ad. If you stop or pause the campaign, you won't able to see the results or very little.
Choose Social Media Marketing- SMM
SMM refers to the type of marketing where one can use social media and social networks for marketing their products and services. This is one of the best strategies of digital marketing for artists.
Various social media platforms like Facebook, Instagram, Twitter, Pinterest, YouTube, LinkedIn, TikTok, and many more offers paid campaigns just like search engines. This helps artists to market themselves or bring more quality traffic to their website or blog. Making use of social media is the best strategy for digital marketing for artists.
When artists have followers on their social media platforms or any people on social media who are interested in his kind of artistry is the greatest source of quality traffic for his website or blog to make them more connected to his works.
It's not late for Email Marketing
Email marketing is an affordable method of digital marketing for artists. Collect the emails of your followers or fans and send them cold emails about your works or any artistry-related things. Email marketing helps to get in connection with your followers always. Try to give them some value in your emails.
And never send them cold emails repeatedly that look spammy, or sometimes users get annoyed and have more chance of unsubscribing from your list.
Content Marketing is always the best
Content marketing always brings more value to SEO efforts. Always create genuine content that is of high quality that answers user search queries. The artists can create quality content around their artistry skills.
They can write blog articles, create demonstration videos, etc. Content marketing has huge benefits for digital marketing for artists.
Prioritize Local SEO
Local SEO is the best technique that focuses on local search queries. This technique of digital marketing for artists can be employed by those who own a local business like having a physical store, art gallery, etc. Local search marketing has a great impact on the search engine results page.
The artists can easily list their businesses in Google My Business (GMB). Listing and optimizing the GMB profile is the first step of local SEO. Creating a GMB profile and adding the elements like location, business hours, photos, etc contributes a lot to bringing quality traffic to the artists' businesses.
Don't underrate the effectiveness of Influencer Marketing
Influencer marketing is always the mentions and recommendations strategy. The right influencer can get you more sales and traffic. You can make use of influencer marketing strategy in many ways.
Find a top influencer in your niche and ask him to mention and recommend you. Or you can get him for one to one interview, likewise. Influencer marketing is something kind of word-of-mouth which is very powerful. This is also one of the approaches of digital marketing for artists.
Always do Remarketing/Retargeting
Remarketing and retargeting are good digital marketing techniques for artists that help in getting sales and traffic. There is a thin difference between them.
Remarketing is nothing but reaching out to existing customers who are already purchased from you previously; Retargeting is running ads for your website or blog visitors who have taken some action on your website or just for the visitors also.
This is one of the best methods of digital marketing for artists as it targets only the specific people or visitors who are interested in your niche and artistry work.
Conclusion:
Artists can make use of digital marketing to build their portfolios and showcase their talents. And also it is very important to grow as a personal brand, especially for artists, and digital marketing will help them through in all ways.
Every artist can make use of the above-mentioned strategies and techniques of digital marketing for artists that help them grow digitally. This post-pandemic is the right time to consider digital marketing for artists. It is much needed nowadays as most people use smartphones and are connected to the internet.
Further articles to read:
Check out my other blog and read about various Digital Marketing methods in 2022